(BRK.A), (BRK.B)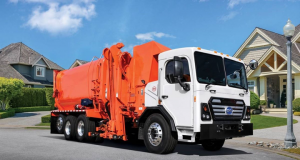 While Tesla focuses on passenger cars, Chinese battery and vehicle maker BYD continues to expand its presence in the United States market through its buses and specialty vehicles.
The company has delivered its first BYD 8R Class 8 Automated Side Loader (ASL) all-electric collection truck to Waste Resources to serve its customers in the City of Carson, California.
The first all-electric refuse truck in residential collection operation in Southern California, it features BYD's propriety electric-propulsion system designed specifically for refuse collection.
The refuse truck's cab, chassis, and propulsion system were manufactured by BYD, with an ASL body made by Amrep, a leading manufacturer of waste handling equipment in North America.
Trash hauler Waste Resources currently runs 13 refuse trucks in the city of Carson, and if BYD's refuse truck meets its service and environmental objectives, the company hopes to convert its entire fleet to BYD all-electric trucks.
BYD and Berkshire Hathaway
In 2008, Berkshire Hathaway bet on BYD's potential, purchasing 225 million shares. It's an investment that has paid off handsomely. Berkshire's original investment of $230 million has grown in value almost ten-fold, and is now worth roughly $1.96 billion.
For More on BYD, read the Special Report: BYD, Berkshire's Tesla.
© 2019 David Mazor
Disclosure: David Mazor is a freelance writer focusing on Berkshire Hathaway. The author is long in Berkshire Hathaway, and this article is not a recommendation on whether to buy or sell the stock. The information contained in this article should not be construed as personalized or individualized investment advice. Past performance is no guarantee of future results.